Thing #1: Introduction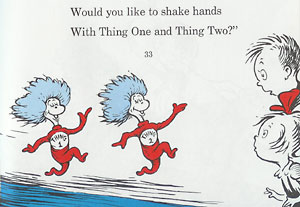 Hello Fontana Regional Library staff members!
During the next ten weeks, we're hoping that you'll familiarize yourself with new technologies that are changing the way people interact and how information is delivered. From blogs to You Tube and from podcasts to online bookmarking, these 23 exercises are designed to cover a wide range of web applications and to allow everyone to explore at their own pace. Not only will this training be a fun way to dive headfirst into the world of lifelong learning, but it will also give you a chance to look at ways for our libraries to become more relevant to our users. And don't forget that if you complete all 23 Things within the timeframe, you'll be treated to a great prize!